A Language on the Brink of Extinction
Miriwoong is the Indigenous language of the lands surrounding the remote Western Australian town of Kununurra. Currently our language is classified as critically endangered, with only a handful of fluent speakers of this once vibrant language now remaining. All of these speakers are quite old and frail, meaning that there is a very real risk that the Miriwoong language will simply disappear when those final few Elders are lost to us.
The wisdom and culture of Miriwoong people can only truly be understood through the language that has been used for thousands of years to teach it. Therefore, if Miriwoong continues to be forced into further obscurity so too will the culture, knowledge and history of Miriwoong people. If this happens, Australia will lose another rich piece of its Indigenous culture, histories and knowledge. But for Miriwoong people the situation will be much starker. The loss of language and culture has already had profound and long-lasting effects for both Miriwoong communities and individuals; contributing significantly to the intergenerational trauma and hardships suffered since colonisation. It is particularly damaging to children who, in their early years, are developing the foundations of their sense of self and self-esteem.
With your help though, we can prevent this loss and help save Miriwoong.
Why is Saving a Language Important?
Language plays a critical role in the development of an individual's sense of identity, of belonging to a certain place or community and for forming a connection with a particular culture. Our Elders strongly believe that one of the most effective ways of addressing the vast social challenges facing our community is to learn our mother tongue, so that our people will be able to reconnect with their heritage and foster greater pride and respect in themselves and in their culture.
Current research strongly supports this as well. A growing body of studies have shown that a stronger connection with culture and the ability to speak your mother tongue are associated with:
· – markedly better physical and mental health,
· – higher levels of attending and completing school, and individuals are more likely to gain a post-school qualification
· – more likely to be employed and,
· – have lower rates of incarceration, and
· – lower rates of alcohol and illicit substance abuse.
One study even found that among Indigenous communities in Canada where traditional language use was still strong that the youth suicide rate was significantly lower than communities with little to no knowledge of language. Tragically, the growing rate Indigenous youth suicide is a major crisis in the Kimberley and it is findings such as these that demonstrate how Indigenous languages, as a marker of cultural continuity, are a strong predictor of health and wellbeing within Indigenous communities.
The revitalisation of the Miriwoong language is critical to ensuring that its culture, history and knowledge will continue to be learned and practiced. And with the disturbing trend of Indigenous youth suicide becoming more and more commonplace, language revitalisation will play an important role in creating a cultural life that young people judge as worth living.
"Our Miriwoong identity is similar to a flower. The seeds stem out of the country and grows through the language and culture. We have to follow the example of that flower and keep our language alive because without it our identity will be lost." David Newry, Founding Member of MDWg
Bringing Language Back into the Home
MDWg currently runs several language revitalisation programs and activities including our highly successful Miriwoong Language Nest program (read more about this program and others on our website). However, to further build upon the success of these programs we need to find more accessible ways of enabling Miriwoong to be incorporated into the home environment and everyday life.
To address this, MDWg hopes to develop a series of short films that promote and teach language, culture and knowledge of country to Miriwoong children and their families. Videos will be available for all community members and the broader public to access freely online through YouTube, our website and various social media channels.
Each video will introduce viewers to various Miriwoong words, phrases and concepts by exploring a particular topic or theme. The overall purpose of each video will be to both reconnect individuals with their language and culture, teaching viewers' new words and phrases that they can begin using in the home, school, work and everyday life.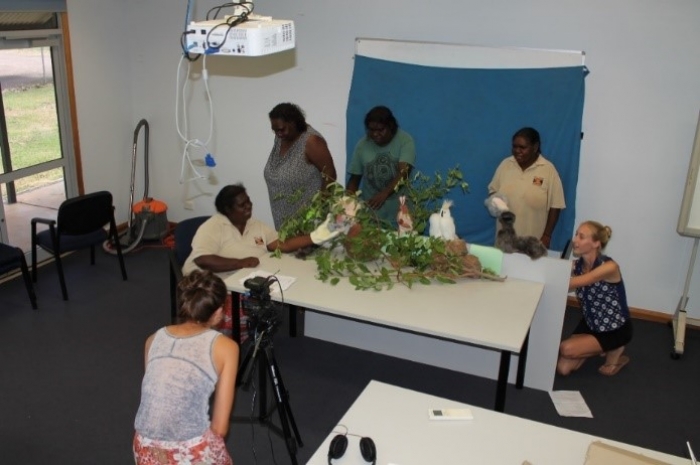 Language learning does not need to be boring (in fact, we think it's deadly!) and this is why we're so excited to explore the medium of film to express our language and culture. A strong focus of ours is to make video content fun and dynamic for our viewers. We don't want our videos to be dry lessons but instead interesting, entertaining and enjoyable for all.
Below is an example of a video we made for young kids that uses a simple song to teach the words for fishing and the names of different types of fish. With your help we'd love to make more videos similar to this one!
Why Videos?
Creating a short film series is a fantastic way to learn and share the Miriwoong language with children, families and the broader public as well. Videos allow MDWg to creatively incorporate traditional learning methods into the modern world and furthermore, online videos are able to reach a wide audience easily, which, given the endangerment of the Miriwoong language, is critically important.
A Miriwoong short film series will help MDWg to:
• Provide direct support to our primary revitalisation activities such as Language Nest, weekly radio programs and the development of other 'Lets Learn Miriwoong!' resources such as 'speaking books' and dictionary apps
• Effectively pass on language and cultural knowledge to a wider audience than previously possible.
• Reduce socioeconomic barriers to learning Miriwoong by being freely available online and enable language learners to have access to resources at their own convenience
• Create interesting and dynamic stories in a variety of different formats (e.g. puppets, animation, live action etc.) to engage children and adults in language learning
• Be a source of community pride, helping to strengthen the Miriwoong identity and improve self-esteem.
• Spread awareness of Indigenous languages and improve cross-cultural understanding between Indigenous and non-Indigenous groups by sharing culturally appropriate content with the public
How you can help us Save Miriwoong!
We need $10,000 to fund our video series project. With this funding we will finally have the resources to write, develop, film and edit a Miriwoong short film series.
Your donation will contribute towards:
– Training our Indigenous staff in film production, editing and development
– Purchasing new or update old film and recording equipment.
– Consulting with Elders and Language Workers to develop scripts for new videos
– Effectively promoting and publishing the videos online to maximise community viewership
Given the endangered status of Miriwoong, it is critically important to capture and share the stories, songs and knowledge of our Elders before it is too late.
Please donate today and help save Miriwoong. A small contribution can make a big difference where many work together.
This article originally appears at:

https://chuffed.org/project/saving-miriwoong

Article taken from the following publication:

Chuffed

Article submitted by:

Author:

Mirima Dawang Woorlab-Gerring Language & Culture Centre